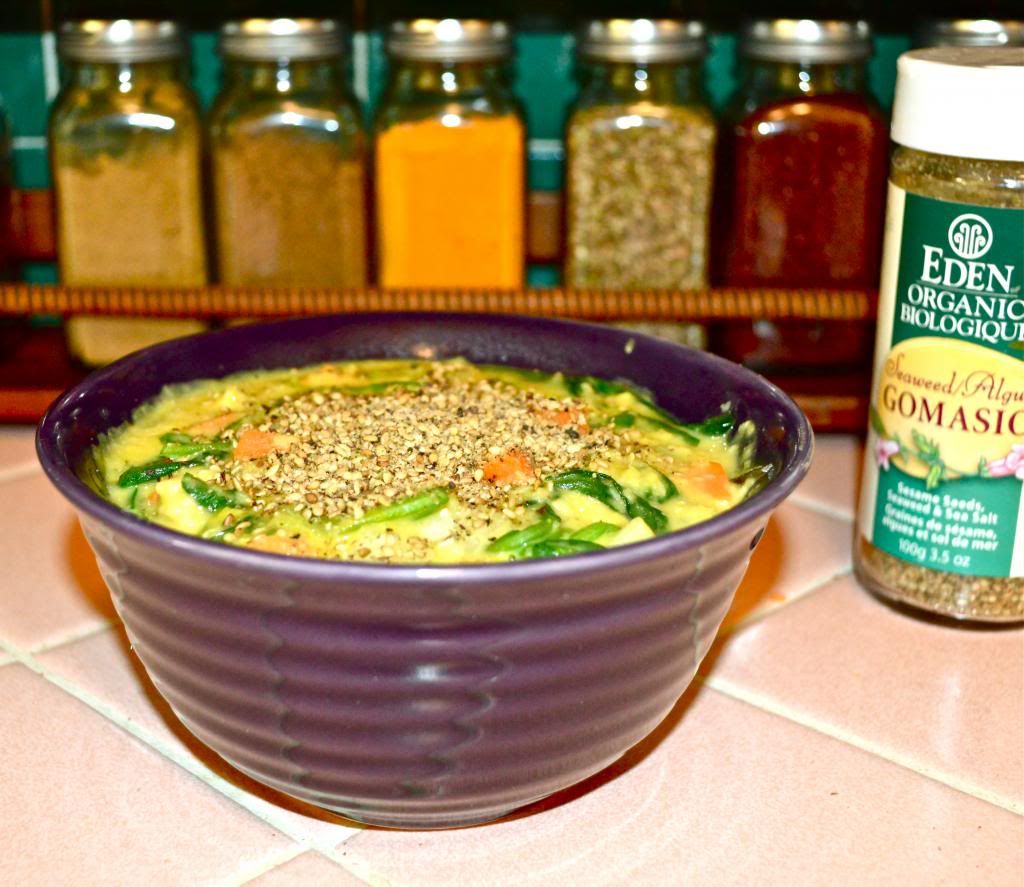 I am finally in Vancouver which means I once again have 1) the time to cook and 2) a normal size kitchen to cook in! The weather is also much more moderate and thus I am able to actually use the stove without overheating the entire apartment and feeling like I'm going to die. These are all very good things when one wishes to create yummy recipes. Simon and I have been going to the markets and there are tons of fresh, local veggies. The problem I often have at the market is I tend to buy vegetables that look delicious but are seasonal and I realize I don't know what to do with them. One of these on going cases has been kohlrabi, I never ever know what to do with kohlrabi! I think that the recipe below might be the most success I have had with kohlrabi yet. It is super delicious and reminds me of an indian dahl. I have said to sprinkle a little gomasio on top for extra flavour and a little calcium. Gomasio is a mix of sesame seeds and sea salt, the one I have also has a bit of seaweed mixed into it. You can buy them at most health food stores, or you can make your own!
Kohlrabi Lentil Stew (Serves 4)
✿

1 1/2 cups dried red lentils
✿ 1 medium kohlrabi (diced)
✿ 2 cloves of garlic (crushed)
✿ 1 can coconut milk (400 ml)
✿ pinch of cayenne (to taste)
1) Chop all your vegetables and place them in a big pot on the stove.
2

) Add to the pot garlic, coconut milk, water, cumin, sea salt, tumeric and cayenne.
3) Bring mixture to a boil and reduce to a simmer for 30 minutes.
4) After 30 minutes, turn off the stove and mix in the spinach and lime juice.
5) Sprinkle with gomasio and serve.
Have a wonderful happy day!