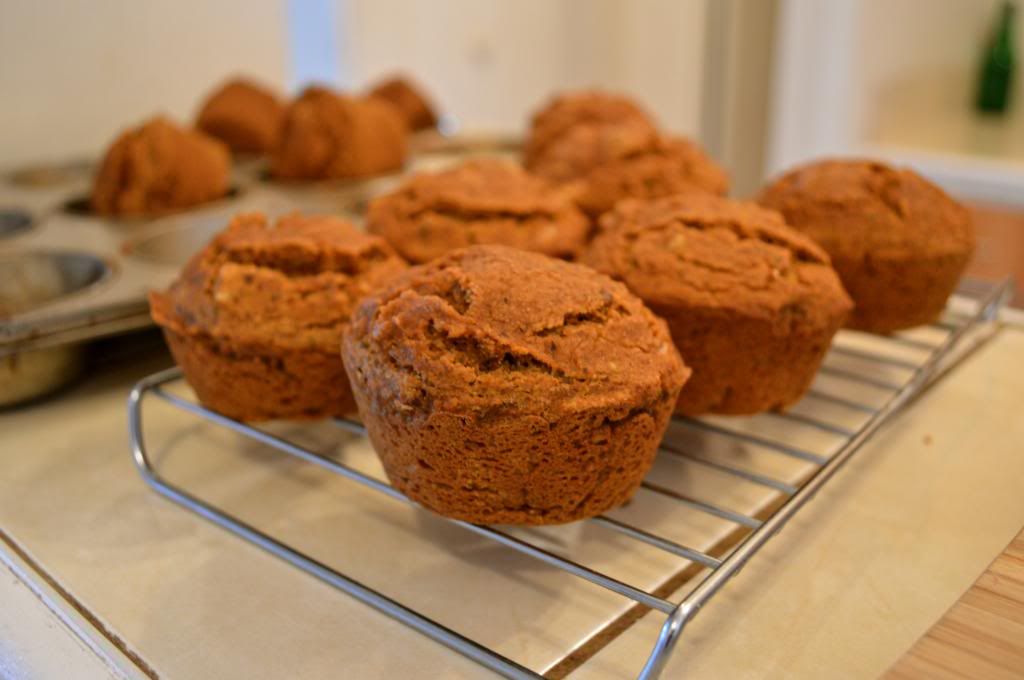 We are finished exams! Simon is done his degree and I'm so close to being finished. Of course we are back in the kitchen now that the craziness is over. My step dad George is driving through Montreal today on his way to the cottage in Cape Breton for the summer and so we decided to make some muffins to send with him for his trip. These muffins are sweetened with coconut palm sugar which is a relatively new ingredient for me. Coconut palm sugar is relatively low glycemic compared to other sugars and is considerably more nutrient dense then refined varieties. It seems to do a really good job sweetening baked goods! These muffins use a flax seed/water mixture to replace the egg so they are vegan and gluten free! Look at Simon...doesn't he look happy to be finished

school :).
G

F/VEGAN

PUMPKIN SPICE MUFFINS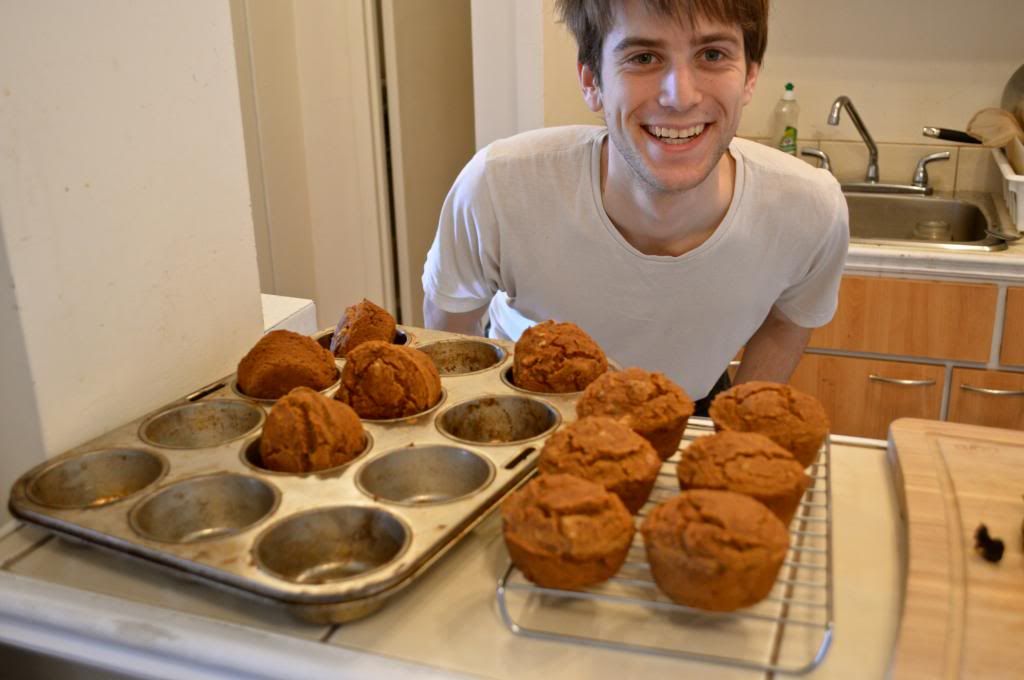 IN

GREDIENTS

:
✿ 2 cups gluten free flour mix (Bob's

Red Mill works!)
✿

3/4 cup coconut palm sugar
✿ 1 tbsp arrowroot

starch
✿ 1 tsp baking sod

a
✿ 1 tsp baking powder (gluten free: make your own)
✿ 1

.5 tbsp cinnamon
✿

1.5 tsp nutmeg
✿ 1 tsp sea salt
✿ 1/4 cup gr

ound flax
✿ 3

/4 cup filtered water
✿ 2 cups pumpkin pur

ee
✿ 2 tbsp agave

syrup
✿ 1/4 cup chopped dried apricots (sulphite free)
✿

1/4 cup crushed wal

nuts
INSTRUCTIONS:
1) In a small bowl mix the ground flax and filtered water. Leave to sit for 5-10 minutes.
2) In a large bowl combine the dry ingredients together (flour, coconut sugar, arrowroot, baking powder, baking soda, sea salt & spices). Stir to com

bine.
3) Add to the dry mixture the pumpkin puree, agave syrup and ground flax mixture. Stir until fully combined with

the flour mix.
4) Finally, add the chopped apricots and walnuts

.
5) Grease a 12 compartment muffin tin (grease it well

...I use coconut oil).
6) Divide the batter evenly between the

muffin tins.
7) Using a little bit of water on your fingers, smooth the

tops of the muffins.
8) Place the muffin tin in the oven for about 20 minutes or until a toothpick comes out

clean.
9) Carefully slide a knife around each muffin to pop it out of the tin. Either turn the muffins on their side in the pan or place them on a cooling rack

.
10) Ea

t up!
Song I am

loving today:
Have a

super happy day!
Love

, Malakai