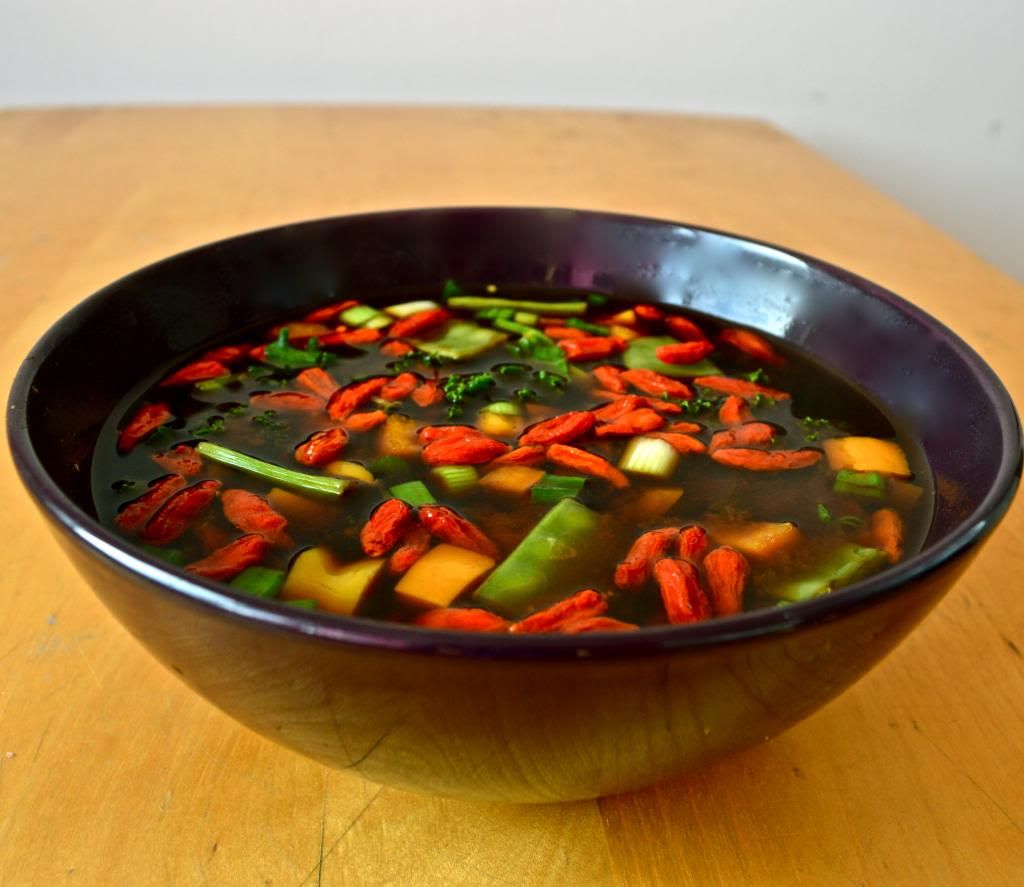 This is my first soup recipe I have made on my own in a while (Simon is

usually the soup guru)

! "Soups with Simon" has been on hold for a little while but Simon assures me that it will return shortly! Last weekend we bought the most amazing 5 yr aged miso and so I had to put it to good use and make

two big batches

of miso soup! Miso is an extremely healing fermented food commonly used in Japan and China. Miso is made from fermenting soybeans with a cultured grain called koji. Often this is done in combination with a grain such as rice, barley or wheat. If you are gluten sensitive make sure to buy a gluten free miso! Traditionally one would make miso soup with some kind of seaweed (but I'm not a huge fan so feel free to add it to the recipe below). What's special about this soup recipe is that it's made with a chaga mushroom broth! Check out my post about Chaga from a few weeks back.

T

he miso,chaga and goji berries make for an incredibly healthifying so

up!
I am soooo excited to announce the winner of my first Blog Giveaway!

The lucky winner gets a free bag of Hemp Hearts c

ou

rtesy of Manitoba Harvest. Congratulations to Sarah Mc

I

nnis! Look out for upcoming giveaways, I have some good one's planned

.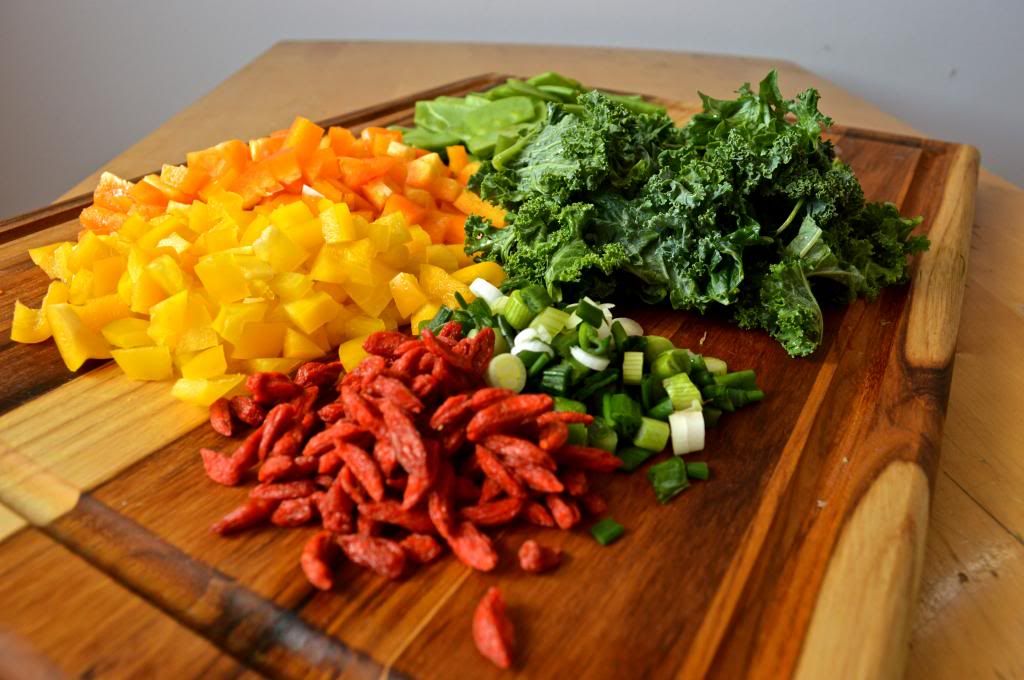 ✿6 cups water
✿1 tbsp chaga mushroom powder
✿3 tbsp

wheat free tamari
✿3 inches peeled and

chopped

ginger
✿

6 tbsp miso
✿

1/2 cup snow peas (ends removed and chopped in half)
✿

2 bell peppers finely chopped (different colours)
✿1/4 cup goji berries
✿1/4 cup chopped green onion
✿

2 cups chopped kale
IN

STRUCTIONS

:
1) Add water, chaga mushroom powder,ginger and tamari to a large pot. Bring mixture to a boil and reduce to a s

immer for about 45 minutes.
2) Strain the broth mixture through a nut milk sac or fine

mesh sieve. Return the liquid to the pot.
3) Add the miso, snow peas and bell peppers to the pot and simmer until the snow peas become a bright green colour (they should be

cooked but not mushy).
4) Turn the heat off

and s

tir in

the green onion, goji berries and chopped kale. Allow a f

ew minutes for the kale to wilt and the goji berries to plump up.
5) S

erve!
HAPPY SONG OF THE WEEKEND:
Have a lovely end to the weekend!
Love,
Malakai