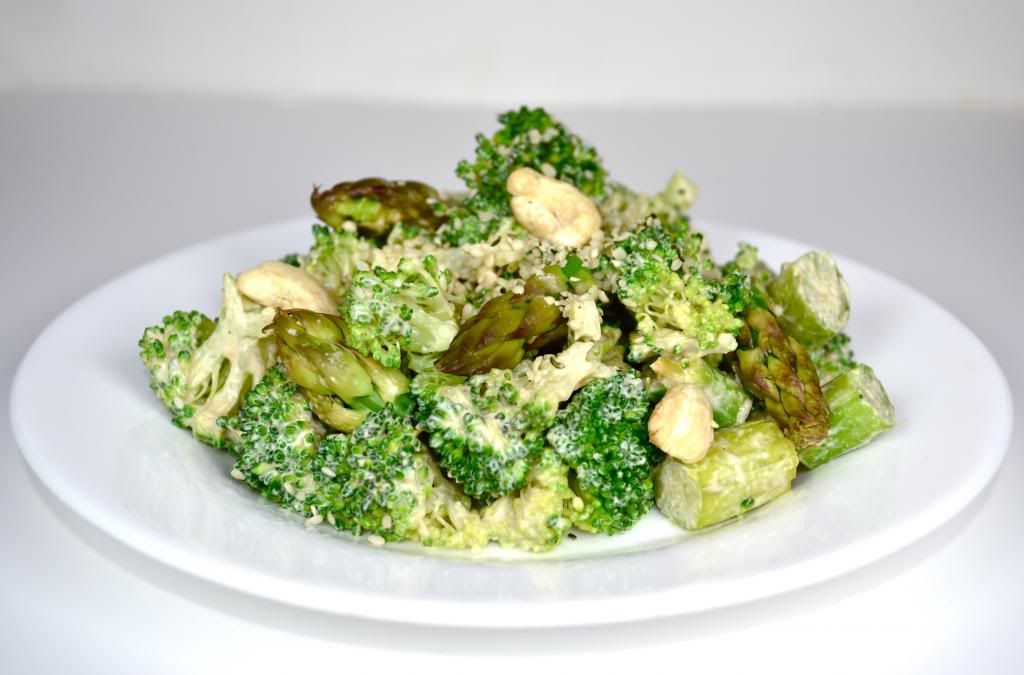 Earlier this week I walked outside and thought that Spring had arrived and let me tell you I was quite excited...but alas another snow storm hit and now the city is a giant slushy. Perhaps we will have to wait a few more weeks to hear what the ground hog has to say (as I think that Wally is probably more in tune with the seasons then me). I have been meaning to post this salad for a little while now but things (I mean life...) just keeps getting in the way. The seasons must have my back however as this is a winter salad and winter has lasted long enough for me to post it. This is a super easy one. Try it out, mix it up and enjoy!
BROCCOLI ASPARAGUS SALAD
(Serves 2)

INGREDIENTS:
✿2 cups broccoli florets
✿1/4-1/2 cup chopped asparagus
✿1/4 cup soaked cashews
✿1/4 cup lemon juice
✿1 tbsp miso
✿2 tbsp flax oil
✿1 tsp wheat free tamari
✿2 tbsp water
**Hemp Hearts to sprinkle on top
INSTRUCTIONS:
1) Wash and chop the broccoli and asparagus into small pieces. Steam until tender but still a little crunchy. Set these veggies aside to cool.
2) Place the remaining ingredients in a blender or food processor and blend on high until smooth.
3) In a medium size bowl combine the cooled steamed veggies and the sauce (a small amount at a time until it reaches your liking).
4) Sprinkle with hemp hearts
5) Munch.
LOVE,
Malakai