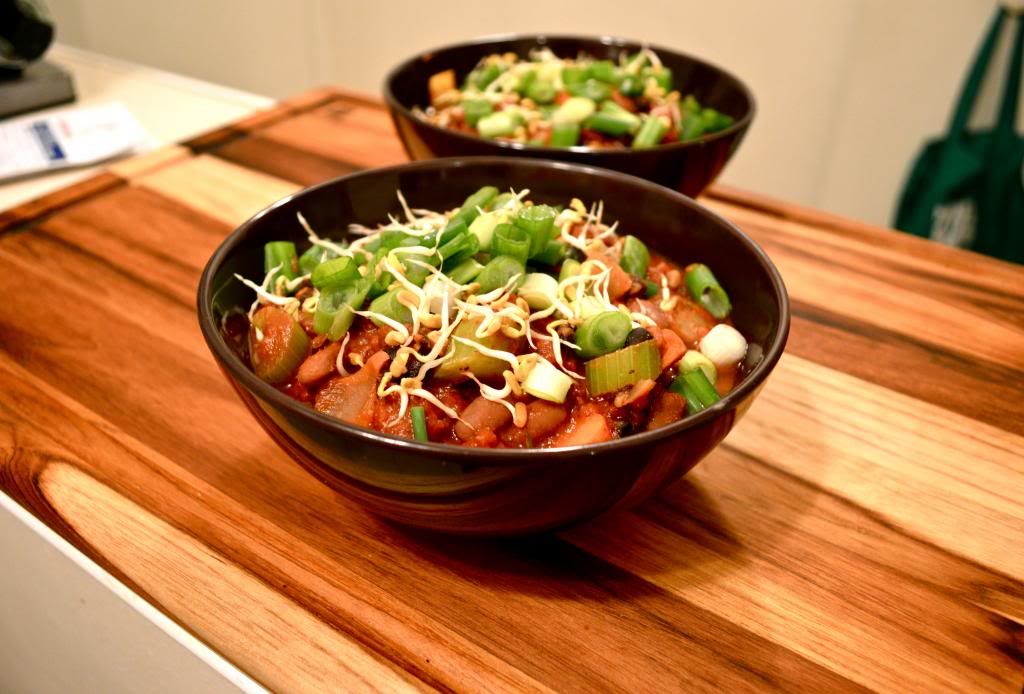 Chili is one of my favourite meals. It always served as the perfect lunch and dinner after cold days snowboarding. If left long enough on the stove all the flavours meld together while the green onions and sprouts give it some crunch. My chili recipe changes every time I make it so don't feel obliged to exactly follow this recipe and you can swap in whatever you have at home, corn works very well. Chili is also great for making large quantities and freezing single servings for later.
VEGETARIAN CHILI
Ingredients:
✿
1 1/3 cups dry pinto beans
✿
1 1/3 cups dry black turtle beans
✿2 medium carrots chopped
✿
1/2 pound of sliced mushrooms
✿
5 stalks of celery chopped
✿
1 can diced tomatoes (796 ml)
✿
1 can crushed tomatoes (720 ml)
✿
To garnish: green onions and sprouts
Instructions:
1)Soak the pinto and black turtle beans for at least 8 hours. Rinse the beans thoroughly and then boil them with a piece of seaweed until soft (2-3 hours). Drain and put to the side.
2)Oil a large soup pot and put it on medium heat.
Add the onion and garlic. Occasionally stir until the onions become translucent.
3)Add the carrot and stir the pot to coat the carrot in oil. Fry for 5 minutes.
4)Add in the mushrooms, celery and hot pepper. Cook for a few minutes.
5)One at a time mix in the parsley, diced tomatoes, beans and crushed tomatoes. Bring to a boil and reduce heat to a simmer.
6)Mix in the coriander, cumin and cacao and stir occasionally for at least 20 minutes.
7)While the chili is cooking chop up the green onions (about 1 green onion per serving).
8)Scoop chili into bowls, top with green onions and sprouts, serve with warm bread.
Until next time, Simon