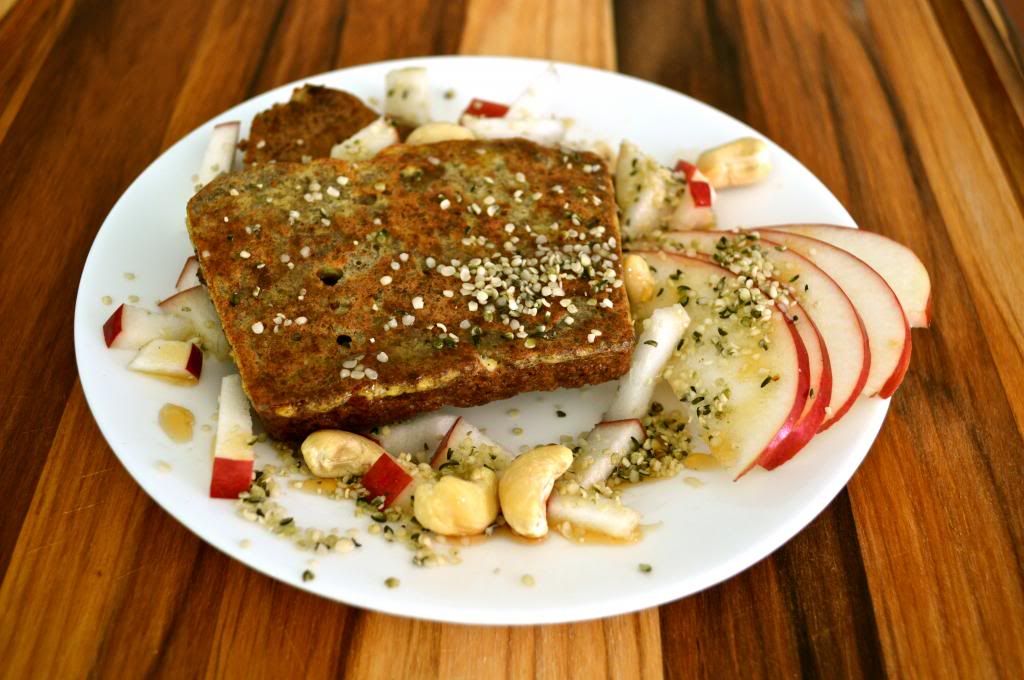 This past fall I discovered a bakery based out of Perth Ontario which immediately put a smile on my face. Little Stream Bakery creates wonderful gluten free sourdough breads with extremely high quality organic ingredients (all of the grains used are locally grown either in Quebec or Ontario and they even grind their own flour)! This is the only gluten free bread I have ever bought which tastes so good and has such a simple ingredient list. Graham Beck, from Little Stream Bakery was kind enough to send me some of his gluten free buckwheat sourdough bread fresh from the oven. He enlightened me to the fact that the bread uses grey unrefined sea salt as he believes "it is very important that for a few more pennies a loaf they can greatly improve peoples intake of trace minerals that are seriously depleted in most soils." I would have to agree!
I immediately made the delicious french toast recipe below and can not recommend this bakery and their products enough. I am always so grateful for small companies such as this one who focus their efforts on creating wholesome foods for individuals with intolerances. You can find out more at http://www.littlestream.com/.
Little Stream Gluten Free Sourdough French Toast
✿2 slices Little Stream Bakery's Gluten Free Buckwheat Sourdough Bread
✿1 egg
✿1/4 cup almond milk
✿1 tsp vanilla extract
✿ Toppings: chopped apple, hemp seeds, cashews, maple syrup
INSTRUCTIONS:
1) Whisk the egg, almond milk and vanilla extract in a bowl wide enough to fit a slice of bread.
2) Soak each piece of bread in the mixture for several minutes until the bread becomes slightly soggy.
3) Prepare a frying pan on medium heat with a small amount of olive oil.
4) Place the soaked bread slices on the frying pan and cook for about 4 minutes on each side.
5) Top your french toast with chopped apple, hemp seeds, cashews and maple syrup (or get creative!).
Check out Little Stream Bakery in this video:
Have a Fabulous Happy Day!
Love,
Malakai