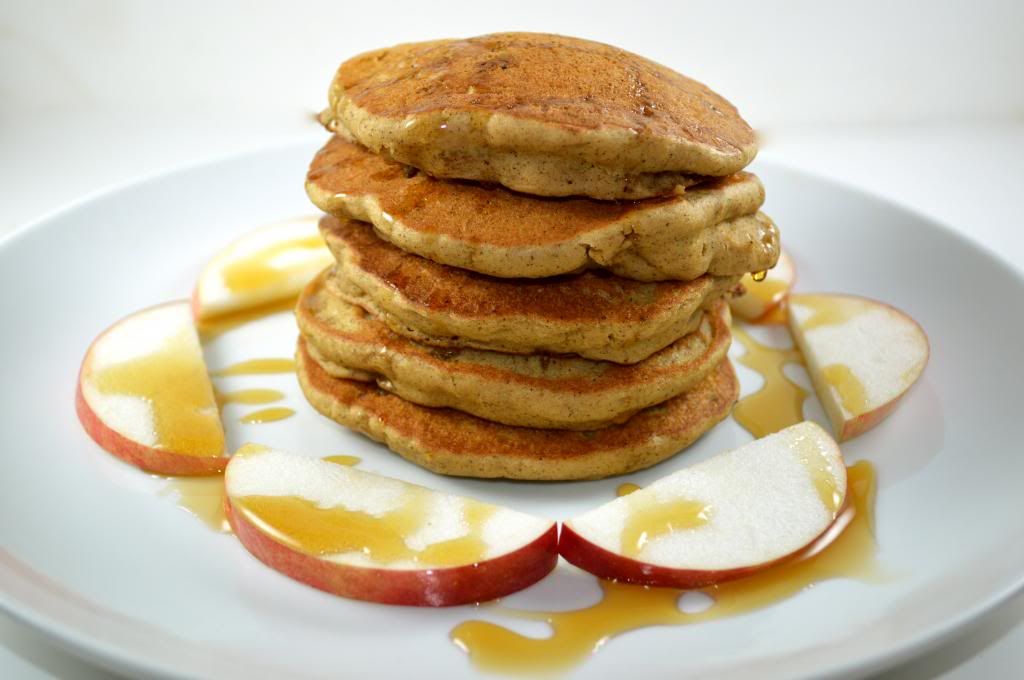 It's breakfast week! Lots of breakfast recipes coming your way (did you see yesterday's french toast?). I have been experimenting a lot lately with different gluten free flours and have been trying hard to create baked goods which mimic the fluffiness of glutenous flours. I had a conversation the other day about Quinoa and how it has become so popular over the last few years and for good reasons! Quinoa is a complete protein (meaning it contains all the essential amino acids) and is so very versatile. There is white quinoa, black quinoa, red quinoa, quinoa flours, quinoa cereals and even quinoa pastas! Personally, I like to cook and bake with GoGo Quinoa products, a Montreal based company dedicated to the promotion of organic food and fair trade practices. They offer a wonderful quinoa flour which seems to make the fluffiest gluten free pancakes known to...well...me (and Simon). Trust us, we have tried every gluten free flour out there!
APPLE CINNAMON QUINOA FLOUR PANCAKES
(Serves 3)
INGREDIENTS:
✿11/3 cup GoGo Quinoa flour
✿1/4 cup sucanat (raw sugar)
✿1 tbsp baking powder
✿1 tbsp hemp protein powder
✿1/2 tsp sea salt
✿1 tsp cinnamon
✿1/4 cup raisins
✿1/2 cup chopped apple
✿1 1/4 cup almond milk
✿1 egg or 1 tbsp ground flax mixed with 3 tbsp water
✿2 tbsp extra virgin cold pressed olive oil
✿1/2 tsp vanilla
INSTRUCTIONS:
1) Mix all of the dry ingredients in a large mixing bowl (not including the raisins or chopped apple).
2) In a separate medium size bowl whisk together the wet ingredients.
3) Pour the wet ingredients into the dry ingredients and stir until thoroughly combined. Add the raisins and chopped apple to the mix and stir until evenly distributed.
4) Prepare a frying pan on medium high heat with a small amount of olive oil.
5) Scoop about 3 tbsp of the batter onto the pan per pancake.
6) Wait until the top of the pancake begins to bubble and the edges begin to firm.
7) Flip the pancake and allow it to cook on the other side for a few minutes.
8) Repeat steps 5-7 until all the batter is gone.
9) Drizzle with maple syrup (or other favourite toppings).
10) Consume and be HAPPY!
Happy song of the day:
Have a Sparkling Day!
Love,
Malakai