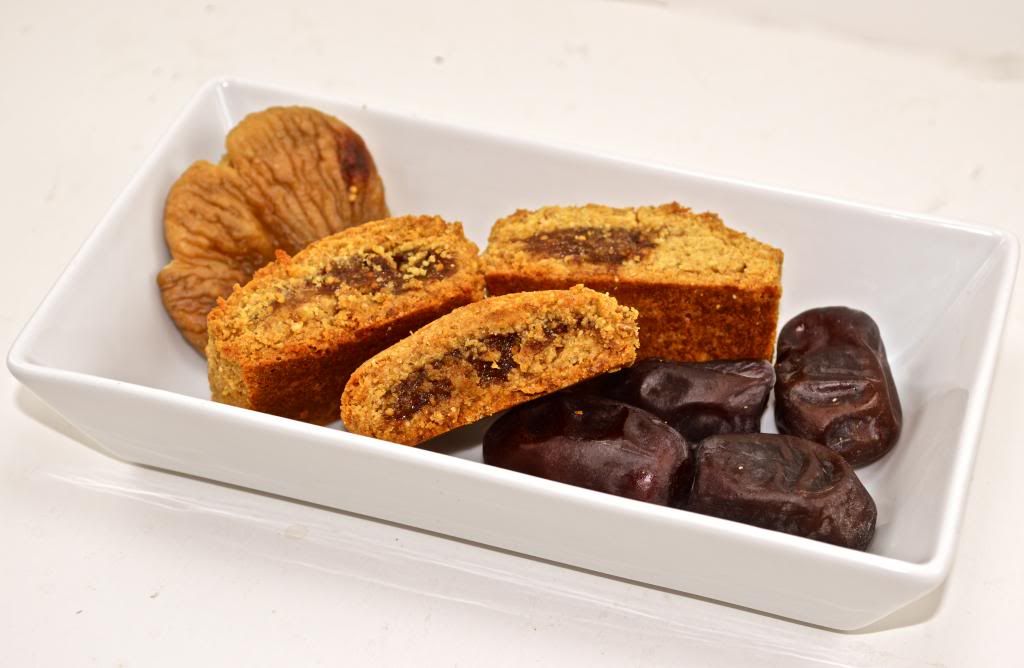 I have been meaning to post this recipe for a while now! I made these for Simon the other week during my "I need to figure out how to make everything out of left over almond pulp phase." Figs are one thing that I miss the most not being able to eat a lot of sugar. I used to be absolutely obsessed with fresh figs. One summer (almost 4 years ago now), I volunteered working on an organic farm in the south of France. One of my jobs each morning was to go climb the fig tree and search for the figs that were perfectly ripe so that we could sell them. I mentioned I love figs right...well you can imagine then that I spent a little bit more time in that tree than was necessary as I put one fig in my mouth for every one put in my basket for the farm. It was a good thing no one ever caught me eating all the figs because as it turns out fresh figs are expensive!! Anywho, enjoy this recipe. It's fairly simple and you don't need fresh figs (especially because they aren't in season)...the dried ones will do just fine.
GRAIN FREE FIG NEWTONS
INGREDIENTS:
Filling:
✿
1/2 cup dried figs (soaked)
✿
1/2 cup fresh dates (soaked)
✿
1/4 cup raisins (soaked)
✿
1/2 tsp cinnamon
✿
dash of nutmeg
Cookie:
✿
1/2 cup ground dehydrated almond meal (or almond flour)
✿
1/4 cup agave (or honey)
✿
1 egg
INSTRUCTIONS:
1) Soak the figs,dates and raisins in water for 3-4 hours until very soft. Drain once soaked.
2) Process the dried fruit in a high power blender or food processor with the cinnamon and nutmeg. Set the mixture aside.
3) In a large bowl mix together all of the dry ingredients.
4) In a separate bowl mix together the coconut oil, agave and egg. Whisk until very smooth. *Note: if it is cold outside then your coconut oil may be solid....you can quickly heat it up in a makeshift double boiler over a pot of boiling water until it liquifies.
5) Pour the wet ingredients into the dry ingredients and mix until well combined and it forms a dough. Let this mixture sit for about 10 minutes so that all of the moisture is absorbed into the dry ingredients (this will make it easier to roll).
6) For the dough into a ball and place it on a piece of parchment paper. Use your hand to flatten the dough slightly. Place another piece of parchment paper on top. Using a rolling pin, roll the dough until it is about 2 cm thick (preferably taking the shape of a rectangle).
7) Place some of the fruit mixture in a line along the center of the dough. Carefully, using the parchment paper to help you, fold half of the dough over the other half and press the edges together.
8) Using a knife, cut the outer (extra) edges off of the dough. You should have a nice log now. Slice the log into cookie size pieces and using a spatula move the cookies to a baking tray.
9) Place the tray of cookies in the oven at 350 for 10-13 minutes (or until they begin to brown a little). Remove from the oven and allow to fully cool.
10) Enjoy!!!
Have a wonderful day!
Love,
Malakai