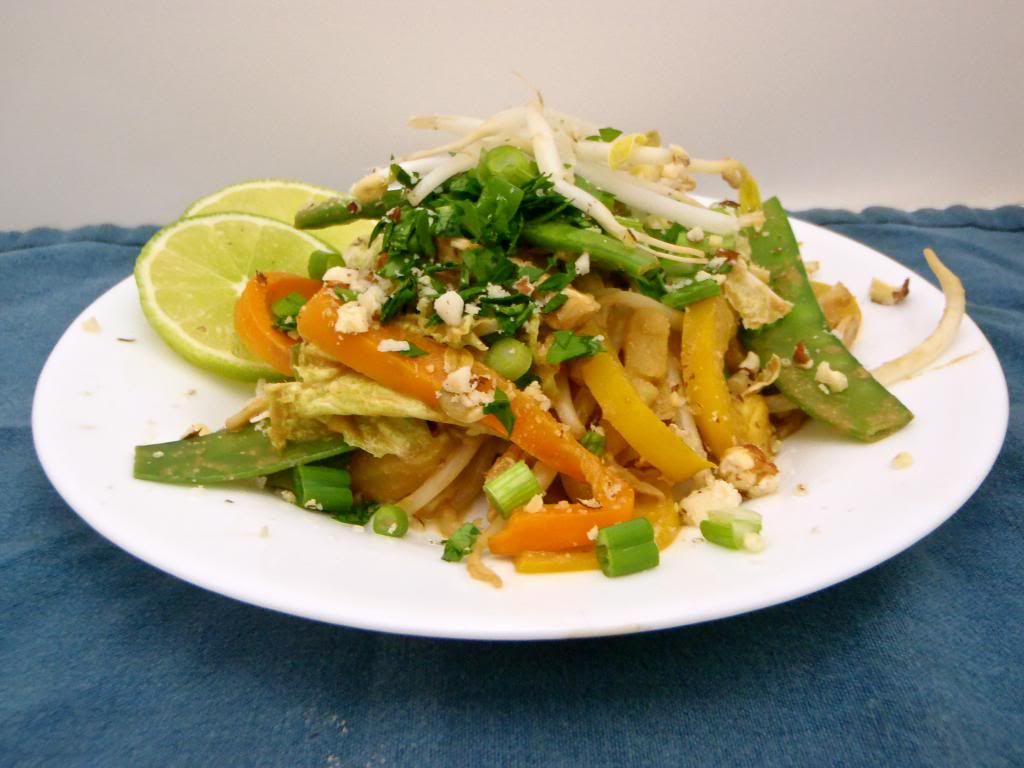 Oh My Pad Thai! It Rhymes! The last few weeks have been so busy busy busy that I have had to constantly remind myself of the importance of taking time to cook and eat and enjoy food. Sometimes when we are rushing, we tend to mindlessly consume our meals and consequently we often don't make the best food choices. Simon and I have a meal planning routine on Sundays and a few weeks ago we were too busy and didn't get around to it. Was there ever a difference in our eating habits that week! Our meals were all over the place and I experienced sugar lows I haven't experienced in ages.

All this to say, taking time to give your food some love is so important in the grand scheme of eating healthfully.

This pad thai is a great meal that you can put together quite quickly and that is easy to add to your menu plan if you are running out of ideas or need some comfort food in your life. Make it grain free and vegetarian / vegan if you choose, or alternatively add in some chicken and rice noodles. Experiment, and make this recipe your own.
PAD THAI (GRAIN FREE)
✿ 1 orange pepper (julienned)
✿ 1 yellow pepper (julienned)
✿ 2 cups snow peas (ends chopped off)
✿ 2 cups nappa cabbage (finely chopped)
✿ 1 cup cilantro (finely chopped)
✿ 1/2 cup green onion (finely chopped)
✿ 1/2 cup mixed crushed nuts (use whatever you have on hand...I used brazil nuts and hazelnuts)
✿ 2 cups protein (pre cooked tofu, precooked tempeh, pre cooked shredded chicken breast)
*If using tofu or tempeh, cook on a large baking sheet in the oven until crisp (usually takes 35-45 min @ 375)
***If you want to add some rice noodles into the mix simply cook the rice noodles as directed and add them in at step #6.
1) Chop and prepare all of the ingredients.
3) Cook your protein of choice.
4) In a large pot with a steaming basket, bring a small amount of water to a boil. Add the parsnips and steam for 2 minutes, next add the snow peas and continue to steam for another 2 minutes, finally add the peppers and steam until the peppers have begun to soften but are still a bit crunchy. Remove from the heat at this point.
5) In a frying pan, heat a small amount of oil and begin to fry the chopped red onion. After the onion has been frying for a minute or two add your protein of choice. Continue cooking until the protein has heated and the onions are translucent.
6) In a large salad bowl (very large), mix together the nappa cabbage and bean sprouts. Add the steamed vegetables and protein of choice to the mix and continue to toss until well combined.
7) At this point, pour the sauce into the bowl a small amount at a time. Toss and taste and continue to add more sauce until the pad thai is to your liking.
8) Garnish with the chopped cilantro, green onion and crushed nuts.
SAUCE INGREDIENTS:
✿6 tbsp wheat free tamari
✿ 25 drops of NuNaturals Liquid Stevia (or 1/4 cup sucanat or 3 tbsp raw honey)
✿ 1 medium size hot pepper (seeds removed)
SAUCE INSTRUCTIONS:
*Combine all the sauce ingredients in a high power blender or food processor and blend/process on high until combined and creamy.
So give your food some love today!
Toodles,
Malakai