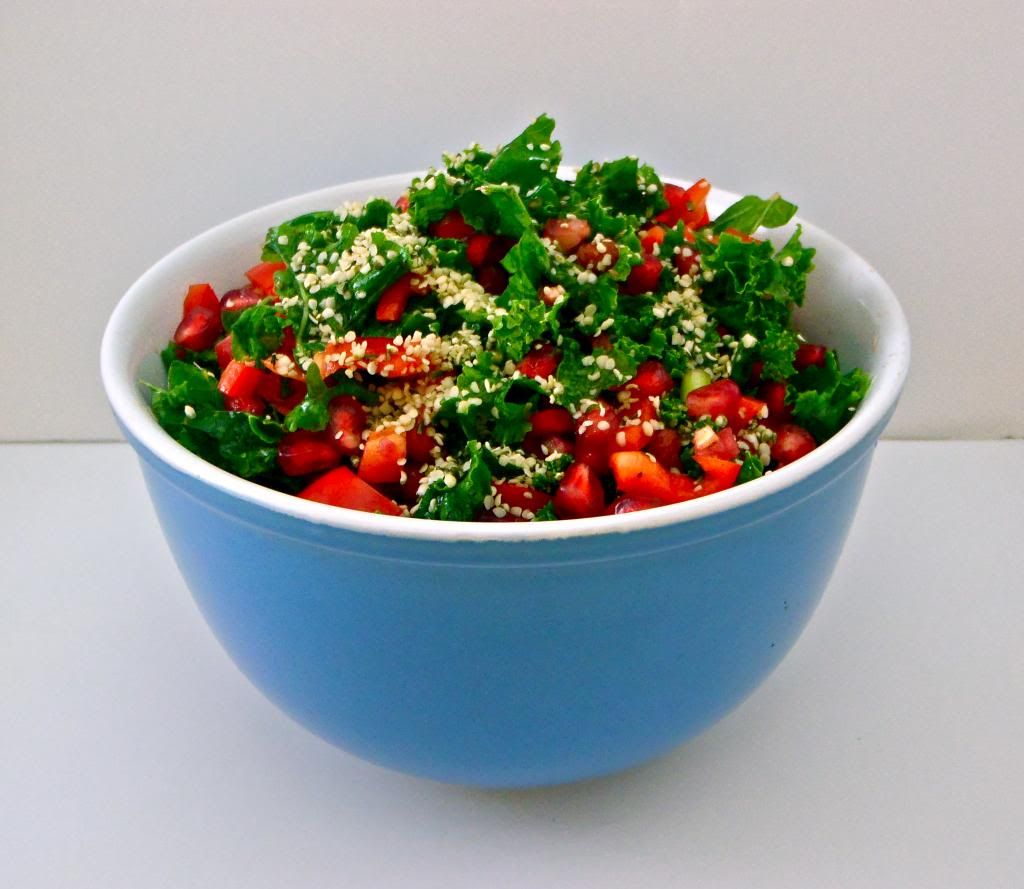 Have I mentioned the fact that I have a bijillion exams going on right now? I've been trying to distract myself / lighten my mood by making lots and lots of Christmas things. So far, making Christmas food in a Christmasy mood seems to be making studying slightly more tolerable. This is a very naturally pretty salad (no need to try hard to make this one look good!). I like this salad very lightly dressed because the pomegranate juice on its own makes it taste quite scrumptious.
Quick Pomegranate Facts:
✿Ancient texts and folklore say the pomegranate was used as a contraceptive (not so sure about this one :S)
✿
very high in vit C and vit Bs, (also vit A and E, potassium and iron)
✿very high in antioxidants (tackling the free radical damage in the body and fighting disease...oh the greatness!).
CHRISTMAS

KALE

&

POMEGRANATE

SALAD
✿4 cups rinsed and chopped leafy kale
✿1 medium size pomegranate (seeds)
✿2 skinny red peppers finely chopped
✿5 drops stevia (or 1/2 -1 tbsp maple syrup)
1) Seed the pomegranate (cut the pomegranate in half and place it in a bowl of warm water. Begin to remove the seeds with your hands in the water, they will come out easily...drain).
2) Combine the pomegranate seeds, chopped kale
& chopped peppers in a large salad bowl and mix with your hands.
4) Mix the lemon juice and sweetener of choice in a small bowl (whisk it together with a fork). Pour this mixture over the salad.
3) Add the remaining ingredients and once again massage the dressing/spices into the kale leaves with your hands.
I love this clip from Charlie Brown Christmas: Lucy's advice: get involved in Christmas projects!
Have a FABULOUS end to your week!
Love,
Malakai