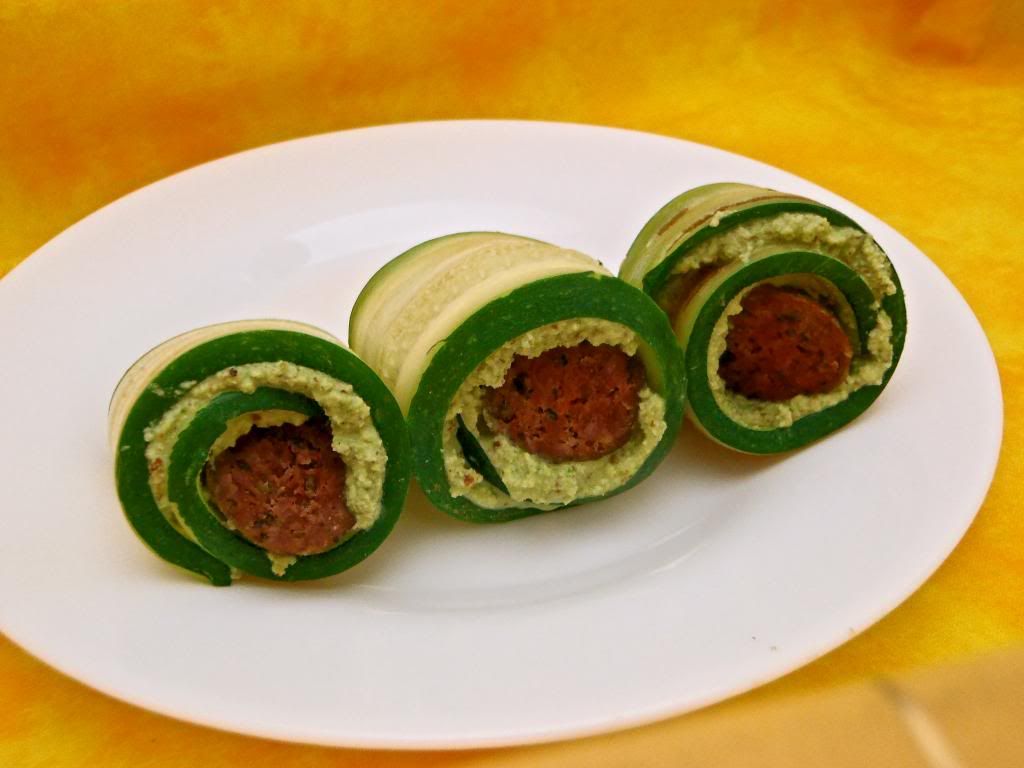 Several months ago Simon and I went through a cooking stage where we would stuff everything. Peppers, cucumbers, zucchinis...you name it. We have since graduated to the rolling stage and are quite enjoying rolling all of our food. It looks prettier this way! Simon says that when food is pretty it always tastes better and I think he's right. I don't post recipes with meat very often because 1) I don't eat very much meat and 2) I don't really like cooking with meat because I don't like touching it (don't tell). On occasion I make an exception and decide that a meat dish is so good it should be posted. This recipe is one of those special occasions, enjoy!
ZUCCHINI SAUSAGE ROLL
(Serves 2)
Ingredients:
✿ 2 sausages (organic beef, no additives)
✿ 1 cup hazelnut pesto (see recipe below)
Instructions:
1) Get the sausages cooking anyway you like.
2) Make the pesto (as instructed below)
3) Slice the zucchini length wise into 5 mm thick strips.
4) Using a grill (or you could do it in a pan), cook the zucchini strips until they begin to soften and are rollable (not too soft though!).
5) Once cooked, cut the sausages into small pieces (about 1.5 cm thick).
6) Spread a small amount of pesto along the zucchini. Place a piece of sausage on the end of the zucchini and roll it up into a spiral.
7) Repeat step 6. with the remainder of the zucchini slices.
HAZELNUT PESTO
Ingredients:
✿ 3/4 cup hazelnuts (soaked for 3 hrs and rinsed)
✿ 1 large clove garlic (or 2-3 small)
✿ 2 tbsp extra virgin cold pressed olive oil
Instructions:
1) Blend all of the ingredients together in a high power blender or food processor until smooth.